First and foremost,much thanks to those who wished me in my previous post :D and I would apologize for the lack of updates cause I've been busy with uni and birthday celebrations for these two weeks. Plus, my internet connection has been nothing great but crappy T__T
Well, back to the main point. I've been anticipating for this one particular package since earlier this month and it arrived around the second week of September. Oh the excitement! & yes you could have guess it's from GlamTags. Just so you know, GlamTags is a blogshop that provide top-quality, unique and beautiful hand-crafted personalized name accessories. All accessories are custom made-to-order and delivered straight to your home!
The happy me can't wait to open the package! :D
I've always wanted a personalized name necklace since last year, so this year for my birthday, I decided to get one for myself. Little did I know that the boyf actually planned to get one for me since I've been talking about it for all the time HAHA but the genius in me ruined the surprise :P So now I know why he has been stopping me all this while when I told him I wanted to get one for myself.
I've always love receiving packages with a Thank You note with a simple message written on it like this, sweet isn't it? Appreciate the extra effort GlamTags put in for their customers.
Everything is nicely package and sealed (Y)
Besides the necklace, they even gave me polishing cloth as well as cash voucher worth RM5 (:
Again, the necklace is nicely wrapped with double layer of bubble wrap and sealed in a plastic seal pouch. Double thumbs up for their special safety packaging!
Tadaaaaaa! My very own personalized necklace (ʃƪ´⌣`)♥
GlamTags actually came up with a new range of necklace; premium range which is of course of better quality from the sound of it. The necklaces are of European export standards which are made of 100% Genuine 925 Silver with 18K Yellow Gold , 18K White Gold and 18K Rose Gold plating respectively. I chose 18K White Gold Plating and added a small heartshape icon. All thanks to Hweii Chiee and GlamTags, I managed to get the premium range necklace for only a fraction of the actual price! :D
You can customize your own necklace by adding icons, borders, heart crystal or circle czech crystal. You can even add the extra length of the chain, adding additional cute icons to your necklace clasp and choose the type of special chain designs.

More details

HERE

and

HERE

. They have more choices of fonts, icons and borders now compared to the time when I placed my order. Spotted a Hello Kitty border somemore, so cute!
Besides premium range, their classic range is still available as well. If you are searching for something more affordable, you can check it out HERE.
Besides personalized name necklaces, GlamTags also sell personalized name accessories that comes in bangles, bracelets, handphone charms, tags, block as well as rings!
They also sell infinity rings :D
When I first started using it, I got a few compliments from my friends and even strangers noticed it *blush* Some of them did ask where did I get it from! Now people don't have to ask for my name, it's clearly seen on my neck LOL I've been using it for a couple of weeks now and it's still in great quality and it's doesn't rust even when I wore it in sweat. I was never the type of person who wore necklace but now that I have it, I wore it most of the time cause I like how simple yet classy it is. Not to say it's suitable for any style or occasions. Somehow it's still a trend that has yet to die, I still see Rachel Berry wears it in the new season of Glee! I would say I'm super satisfied with the quality of the necklace, definitely a good buy that I didn't regret spending on it.
If you're thinking hard of what to get for your girlfriend/boyfriend/friend/siblings for their birthday or any special occasion, you should consider GlamTags as they provide the best service in mailing and gift wrapping as well as card direct to the recipient too. Sounds like a pretty good surprise too eh? :P
Now guess what, I'm teaming up with Glam Tags to give out
RM20 discount off
for any premium necklaces exclusively for my blog readers! All you have to do is just:
1.) Like their FB page by clicking the image below!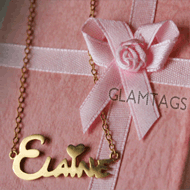 2.) Use this code:

HildaxGlamTags

, promo valid till 31 December 2012!
How does that sound? YAY? Good thing that GlamTags allows font preview before you place your order and I have to thank Hweii Chiee for being so patient with the fickle minded me cause I keep changing my design HEH
Feel free to check them out on FB, http://www.facebook.com/glamtags and also their blog, http://glamtags.blogspot.com/! For any enquiries, you can always message them on FB or email them at glamtags@gmail.com.
Go pamper yourself and suitglam up in no time! (:
xx